Some Thoughts on the Common Toad — George Orwell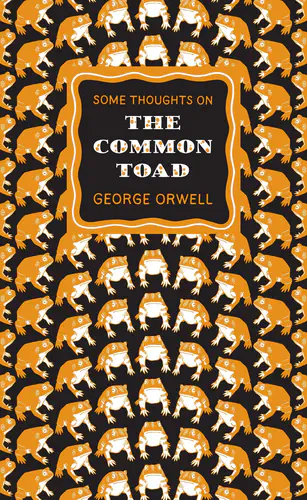 Introduction
I wanted to try some of George Orwell's essays after having read a few essays by Douglas Adams in The Salmon of Doubt , and found the experience over-all enjoyable, but couldn't really follow along in some of the essays focused on literary criticism of other great authors.
In Defence of P. G. Wodehouse
Since learning that Wodehouse was one of Douglas Adams favourite authors, I had wanted to road some of Wodehouse's work. I was pleasantly surprised to see that Orwell also found Wodehouse sufficiently noteworthy to dedicate one of his essays to a discussion of Wodehouse's behaviour during the Second World War.
The essay titled In Defence of P. G. Wodehouse turned out to be my favourite of the collection totalling 8 essays.
Shooting an Elephant
Another essay I found to be a particularly interesting read, perhaps because it unlike the other essays did not necessitate a rather intimate knowledge of the contemporary literature which I simply do not possess.
It gives a remarkable insight into life under British rule in India through the eyes of Orwell's youth. Additionally, this essay can easily be brought into a modern context where British imperialism and exceptionalism continues to be a topic of some relevance.
Other Essays
The other essays largely fall into the category of literary criticism, which were decently interesting to read, but simultaneously far beyond my comprehension – something that ought to be interesting in and of itself!
Conclusion
The collection should probably be avoided by anyone who doesn't have a natural interest in the nitty gritty details of literary debate.